Russian authorities say prime suspect is woman after blast rips through building, leaving 15 people dead


Fifteen people are feared killed and another 50 injured in an apparent suicide bombing in the southern Russian city of Volgograd, highlighting the region's security vulnerability just six weeks from the Winter Olympics.
The blast ripped through a railway station building in an area between the entrance and the metal frames installed as a precaution against terror attacks. The authorities said the prime suspect was a woman, raising the spectre once again of the "black widow" attacks perpetrated by young Caucasus women widowed by 's protracted military effort to tame the region.
inside the station building as the camera, located several hundred metres across the square, shakes from the impact. A cloud of smoke emerges seconds later.
Pictures published on social networks show people trying to help the injured lying on ice-covered ground in front of the palatial Stalin-era station building, its windows smashed by the blast. Witnesses report seeing many dead bodies near the station entrance. The emergencies ministry sent specially equipped aircraft to take people with the worst injuries to medical centres in Moscow, where they can get better treatment.
The Russian president, Vladimir Putin, ordered law enforcement agencies to take all necessary measures to ensure security after the blast. A federal police spokesman, Vladimir Kolesnikov, said security would be stepped up at train stations and airports.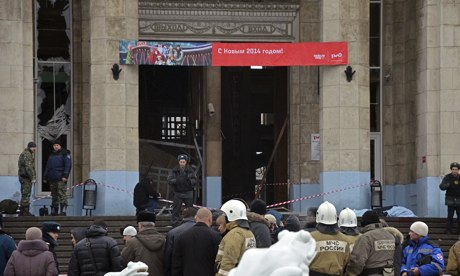 A statement by the Russian national anti-terrorist committee said the explosion was presumed to have been caused by a female suicide bomber. A criminal case has been launched under the "terrorism" and "illegal handling of weapons" clauses of the Russian criminal code.
A spokesman for the committee said the frames placed at the entrances of all Russian train stations and airports – a security measure often ridiculed in the Russian media – had prevented more casualties. A train from Moscow was due to arrive half an hour after the explosion took place.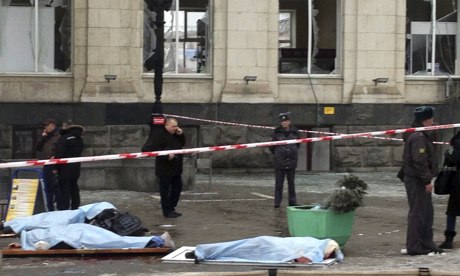 Volgograd, previously called Stalingrad, is a railway hub on the route connecting European Russia with central Asia. It is something of a gateway to the Caucasus, and 600 miles from Sochi, the Black Sea city where the Winter Olympics are scheduled to start on 7 February. Russian authorities have insisted there will be no security threats to the event, despite the fact that the city lies just west of the restive North Caucasus region. In July Doku Umarov, the leader of the remaining Chechen jihadist groups, warned that militants would try sabotage the Games.
The city was the scene of a blast two months ago on a crowded bus. That attack was also blamed on a female suicide bomber from Dagestan, a few hundred miles from Volgograd.
Another explosion killed three people near a police station in the North Caucasus city of Pyatigorsk on Friday.
A man wearing a suicide bomber's explosive-packed belt was arrested in the Stavropol region, also southern Russia, in November.